Event Planner: WA: 7/26 New Belgium Clips of Faith returns to Gasworks Park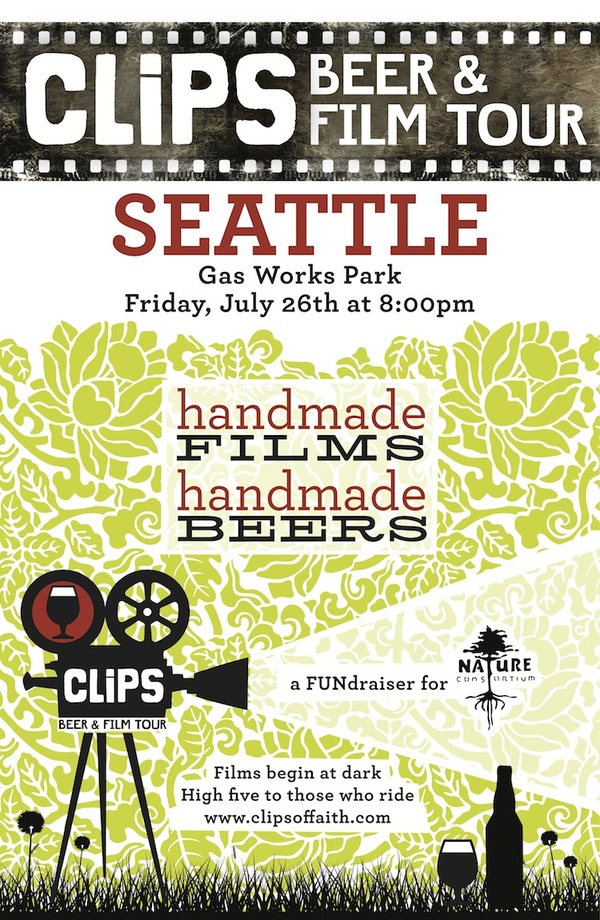 Grab a beat-up blanket, a couple of chairs, some Red Vines, and get ready for the return of New Belgium Brewing's Clips of Faith. Like last year, the bike-themed, independent film festival, will be back at Gas Works Park. Starting at 8pm, New Belgium Brewing is bringing their beers, films, and charity jars for you the fan of bikes, beer, and donations.
More on the New Belgium Beers featured during the event.
Clips offers a venue where guests can try New Belgium's most esoteric offerings while watching short films created by New Belgium fans. Up to 16 beer varieties will be on tap, including selections from the Lips of Faith series and brewery classics. The best part is that 100 percent of the proceeds from beer sales benefit local nonprofits working to improve communities nationwide.
We would like to stress early arrival, as last year featured over 1,200 people who enjoyed the show.
Additionally the brewery is offering 3 ounce 'samples' or 12 ounce beers, at $1.25 or $5.00 respectively. While grabbing a 3 or 12 ounce serving of New Belgium beers, say hello to this year's charity beneficiary, Nature Consortium, who are voluntary beertenders. To 'book end' this paragraph, please bring your valid ID for the beers.
Don't want to bring food to pair with the films and beer? Why not stop by the Hallava Falafel and Fusion on the Run stations to grab a bite?
More on Clips of faith.
"Clips combines our love of hand-crafted beers with independent films while giving people a chance to enjoy an evening in the park," said Christie Catania, Clips Manager-at-Large. "As for films, there's something for everyone from comedies to short documentaries, and the beautiful thing is that you're drinking a beer under the stars, watching films and supporting your community."

New Belgium selects approximately 20 short films for the tour each season. All chosen entries for the 2013 tour will receive a custom gift from New Belgium and screenings in 21 cities. Local resident Fitz Cahall's film, "The Joy of Air" reminds us that what goes up must come down. This film explores the concept of catching air across a variety of sports. Cahall also had a film selected for the 2011 tour.

Other chosen films include mastering the technique of dice rolling; the quest for the ultimate full moon shot; a duel to be the hippest hipster; and homebrewing in a small New York City apartment. It's a diverse and highly entertaining line-up that can't be missed!
Reminder to bring enough cash for some food, a few 12 ounces beers, and to donate to Nature Consortium. The film-presentation is free but the food and beers won't be. See you Friday, July 26th, at Gas Works Park.
Cheers
About Nature Consortium
Nature Consortium (http://www.naturec.org), a grassroots, community-based organization whose mission is to connect people, arts and nature. It produces a Youth Art Program, an Urban Forest Restoration Program and the Arts in Nature Festival.
About the Recycle Bins littered around Gas Works Park courtesy Sustainable Seattle
Sustainable Seattle is focused on the long-term health and sustainability of Seattle and the surrounding Puget Sound region.  Founded in 1991, the organization has a history of being a catalyst and resource for positive change. We have worked to develop five sets of community-based indicators over the past 22 years, measuring and making progress towards sustainability. Our indicator reports have reached thousands of people and sparked the formation of many other community sustainability groups throughout the world.  Our current programs use environmental action and education as a launching point for citizen engagement with the end goal of an overall healthier, more vibrant community for all.
About New Belgium Brewing Company
New Belgium Brewing, makers of Fat Tire Amber Ale and a host of Belgian-inspired beers, is recognized as one of Outside Magazine's Best Places to Work and one of the Wall Street Journal's Best Small Businesses. The 100% employee-owned brewery is a Platinum-level Bicycle Friendly Business as designated by the League of American Bicyclists, and one of World Blu's most democratic U.S. businesses. In addition to Fat Tire, New Belgium brews eight year-round beers; Ranger IPA, Rampant Imperial IPA, Shift Pale Lager, Sunshine Wheat, 1554 Black Ale, Blue Paddle Pilsener, Abbey Belgian Ale and Trippel. Learn more at www.newbelgium.com.