Pairing Preview: WA: Seattle: Returning for a fifth year, Ivar's Acres of Clams presents the "Northwest Winter Beer Tasting", this December 3rd. Tickets on sale.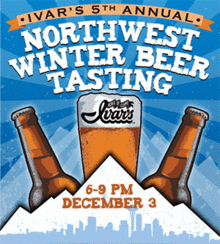 Starting at 6pm, December 3rd, Ivar's "Northwest Winter Beer Tasting" returns. Held at Ivar's Acres of Clams' restaurant, this is a rare opportunity for beer lovers and foodie's to participate in a food pairing.
Our most popular beer tasting is back for it's fifth year at the newly renovated Ivar's Acres of Clams. Meet and mingle with some of the region's most iconic brewers while sampling their winter libations and enjoying great bites.
Look for the following breweries to be present at this year's event.
Georgetown Brewing Company
Maritime Pacific Brewing Company
Silver City Restaurant & Brewery
Pyramid Breweries
Black Raven Brewing Company
Ninkasi Brewing Company
Alaskan Brewing Company
10 Barrel Brewing Company
Elysian Brewing Company
To compliment the beers from the above breweries' beers, the chef's at Ivar's have the following 'bites' to enjoy.
Seared rare beef, gorgonzola mousse, aged balsamic marinated roma tomatoes, Essential Baking Co. crostini
Shrimp, chicken and Uli's chorizo picante sausage gumbo with dirty rice
House smoked salmon "BLT" sliders, house made bacon jam, tomato fennel chutney, Essential Baking Co. baguette
Gorgonzola risotto fritters with roasted tomato sauce
Achiote marinated chicken breast skewers, avocado lime vinaigrette
Pork chive and Parmesan potato croquettes, smoked mushroom aioli
Uli's a la D'avignon sausage skewer, date and sweet onion chutney
Tickets are on sale for $40 and inclusive regarding tastes and bites. To purchase, guests are encouraged to use either
Brown Paper Tickets
, or contact the restaurant at (206) 624-6852.
Ivar Haglund was a true Seattle character and icon. He was known as an entertainer, folksinger, restaurateur and ultimately the "King," "Mayor," or "Patriarch" of the waterfront. The story of Ivar's Seafood Restaurants began in 1938 when 33-year old Seattle native Ivar Haglund opened his city's first aquarium on Seattle's Pier 54. Droves of people lined up and paid a nickel to view the sea life that Ivar had collected from the surrounding Puget Sound. Noticing that his patrons often came with an appetite, Haglund began to sell red clam chowder and fish n' chips from the site—an instant success that began his career as a restaurateur.
...
In 1985, just shy of his 80th birthday, Ivar Haglund passed away. He was posthumously voted by the public as "the person who best exemplified Seattle. A group of longtime friends commissioned a statue to honor him and placed it on historic Pier 54, next to his first restaurant, Ivar's Acres of Clams. They stated "Ivar showed us that Seattle was, and still is the jewel of the Northwest. Everyone was entertained by his quips and irreverence. And to this day, his motto KEEP CLAM lives on."