Brewery Release: OR: Portland: Coming Soon ... Gigantic Massive Bourbon Barrel Aged Barleywine
Press Release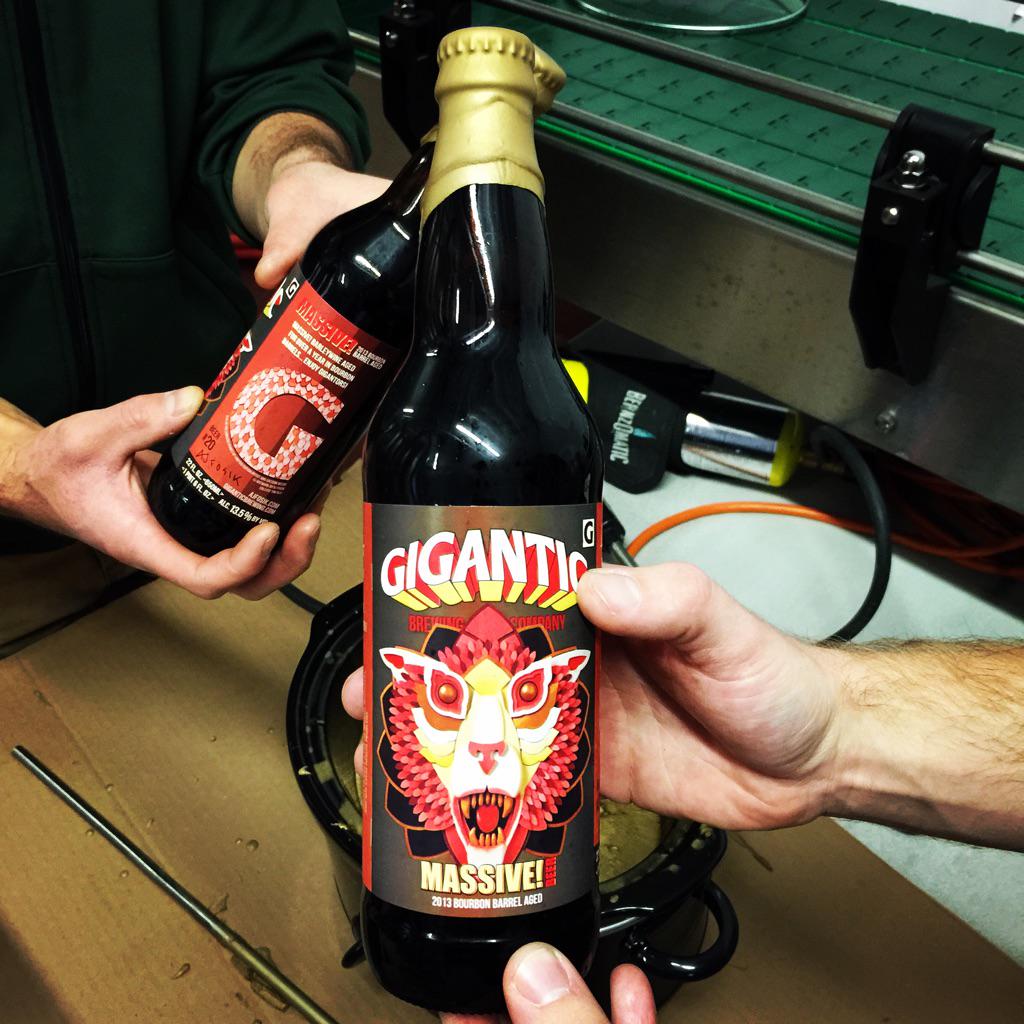 Gigantic Brewing will be releasing both 2013 MASSIVE! Bourbon Barrel Aged Barleywine as well as this years MASSIVE! Barleywine at the Gigantic Taproom & Champagne Lounge on
Saturday December 6th.
.
MASSIVE! Barleywine always features one malt boiled for at least nine hours in the direct fire kettle. The boiling creates maillard reactions that caramelize the wort, resulting in toffee and caramelized sugar malt flavors and a ruby red color. The evaporation over the long boil increases the sugar content resulting in higher finished alcohol. The long boil is inspired by brewers in the Midlands of England who would boil their barleywine ales for longer times to intensify their flavours and colours.
2013 MASSIVE! Bourbon Barrel Aged Barleywine spent 20 months in barrels before being blended and bottled. The finished beer has a myriad depth of aroma and flavor with a rich malt and wood complexity – similar to a fine port . Made with Thomas Fawcett floor malted Halcyon Pale Ale Malt - Halcyon malt is considered to be one of the last remaining traditional English pale malts. Finished with Mt Hood and Willamette hops. 13.5% ABV.
2014 MASSIVE! Barleywine was made Simpsons Golden Promise Malt, a traditional Scottish malt. Finished with Cascade, Mosaic and Simcoe hops. 12% ABV
The taproom will be open noon-9pm on Saturday. Both version will be available on draft and in the bottle. 2013 MASSIVE! Bourbon Barrel Aged will sell for $20 bottle – there are 100 cases for sale. 2014 MASSIVE! Barleywine will sell for $12 bottle.
The labels for MASSIVE! were created by artist AJ Fosik from Portland, Or . The release will feature the unveiling of the art piece special made by Fosik for the 2014 MASSIVE! label. AJ Fosik creates intricate, vividly colored three-dimensional pieces that reference folk art, taxidermy, and cultural ritual. Fosik's wall pieces and freestanding sculptures of anthropomorphized animals are carefully crafted from hundreds of pieces of wood that he cuts and paints individually by hand. Once the basic forms are complete, he adds threatening teeth, claws, and eyes to give the objects an intimidating presence.
Northwest Beer Guide