Beer Release: OR: Get It Now ... The Commons Biere Royale
Situated in Southeast Portland, the Commons Brewery has brewed award winning ales since 2011. Primarily focused on "... approachable and balanced European-inspired beers", Commons has numerous awards.
This past Monday, at the Belmont Station (located at 4500 SE Stark Street), Commons released their newest ale - Biere Royale.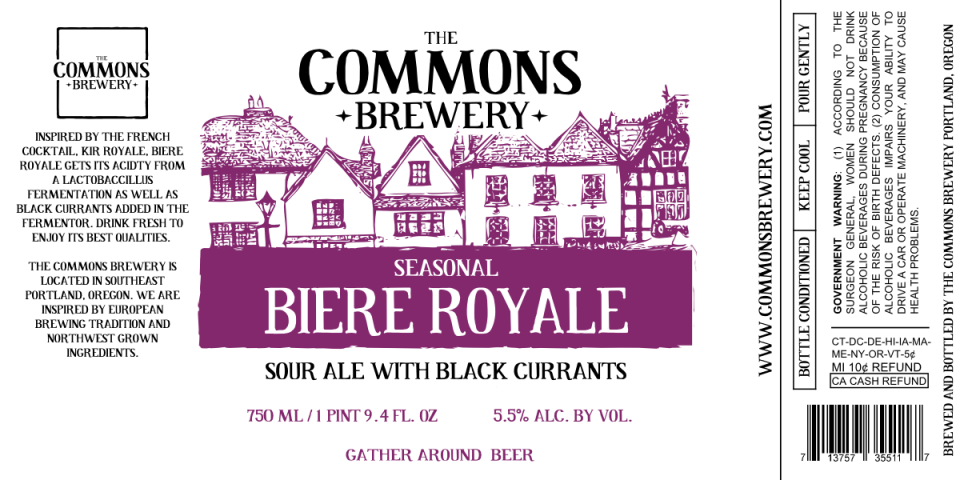 image sourced from The Beer Street Journal
Biere Royale, modeled after the french cocktail Kir Royale, is a sour ale with black currants. First brewed as a popular draft-only beer for the Portland Fruit Beer Festival, the bottled version has a bright acidity from a house-grown Lactobacillus culture originally harvested from yogurt. Black Currants are added during primary fermentation to add additional acidity, fruitiness and a deep purple hue to the final product. The process was catalogued very well by our friend Sanjay at http://www.notsoprofessionalbeer.com/2013/09/brewing-with-yogurt.html.
Biere Royale
Sour Ale with Black Currants
ABV: 5.5%
Malts: Pilsner / Malted Spelt / Flaked Wheat/ Acidulated Malt
Hops: Saaz
Microorganisms: Sacchromyces, Lactobaccilus
Give Belmont Station a call, to see if they still have this unique beer on draft, else visit the brewery starting Thursday. Starting July 17th, The Commons Biere Royale will be available at the brewery, in 750ml (capped) bottles. Furthermore, there will be limited distribution to grocers and bottles shops, through mid-August.
In addition to Biere Royale, Belmont Station will have several other special draft beers for the occasion: Citrus Royale, the citrus companion to Biere Royale, Trillium, a limited blended, barrel aged sour farmhouse ale and Ortucky Common, a dark rye sour ale brewed specifically for the 2013 Puckerfest.
More on The Commons Brewery
Opened in December 2011, The Commons Brewery crafts approachable and balanced European-inspired beers. The tasting room is located at: 1810 SE 10th Avenue, Unit E (entrance on SE Stephens between 10th & 11th). Tasting room hours are Thursday 5-9pm, Friday 5-9pm, Saturday 2-9pm, and Sunday 2-6pm.
More on Belmont Station
Since its founding in 1997, Belmont Station has become Portland's premier beer destination. The bottleshop features that have been thoughtfully selected, meticulously rotated, and properly stored under UV-filtered light to maintain the freshest selection of beer in the region. The adjacent features 20+ rotating taps and a cask "beer engine" pouring world-class brew on the cleanest draft system in Portland.
Northwest Beer Guide