Beer Release: WA: Coming Soon ... Silver City Le Fat Oak barrel-aged Sour Scotch Ale
Believe what you want, but there's a difference between a Scottish Ale and a Scotch Ale. But first you have to enjoy one before you can make that distinction. But how many of you have had a Sour Scotch Ale? Even still, how many of you have had a Oak Barrel-aged Sour Scotch Ale? That's the question being asked by Silver City Brewery, from Bellingham. Starting at 2pm, Friday March 7th, the brewery (206 Katy Penman) opens it doors to sell you a limited edition bottle of Le Fat.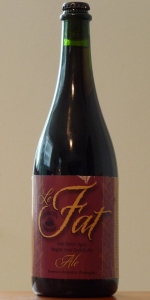 More on Le Fat Oak barrel-aged Sour Scotch Ale
Time is transformative. Everyday all things change in minute and imperceptible ways. The journey is long and it begins with a single step until at long last we reach our ultimate destination.

Le Fat, is a scotch ale that is a scotch ale no more. Leaving its Scottish roots long behind in the summer of 2012, the ale

adventured out to find its own way.

Belgian influences from a host of micro-organisms have soured this once sweet behemoth. Hints of fig, plum and tart cherries occur naturally; the result of its unique fermentation.

Over time, Le Fat has softened and mellowed while gaining refinement and character through extended aging in Merlot, Malbec and Cabernet barrels.

Its journey is now complete.
At 9.00% ABV featured in a 22 ounce bottle, this beer will sell quickly at $19.99. Don't wait too long or you will miss out.
Cheers
Silver City Brewery has been a Kitsap staple since it's inception in Silverdale, WA in September of 1996. Brothers Scott & Steve Houmes, local restauranteurs since 1990, shared a vision of bringing a world class brewpub restaurant to the "West Sound". The brothers teamed up with local Thomas Kemper brewer & founder of the West Sound Brewers Club,brewmaster "Big Daddy" Don Spencer.

Silver City's flagship restaurant developed a strong local following winning numerous local "Best of" awards & regionally has been awarded the best Brewpub in Western Washington by Evening Magazine every year since 2007.  In 2010 Silver City restaurant was awarded the best brewpub in the nation by Luxist magazine.

Throughout the years Big Daddy's brews have won over 65 awards in the prestigious World Beer Cup, North American Beer Awards, & the Great American Beer Festival, making Silver City one of the most decorated breweries in the Northwest.  We at Silver City pride ourselves in brewing a large variety of different brews, showing the diversity & range of the brewers. Of this Don says "I wanted to create many different styles, provide a lot of different tastes. I didn't want to limit myself. As a brewer, I'm very traditional. I like my beer to taste like beer. So I try to stay true to style but at the same time you want to push some beers to the edge, be creative and try new things."