Beer Release: NW: Coming Soon … New Belgium Accumulation White IPA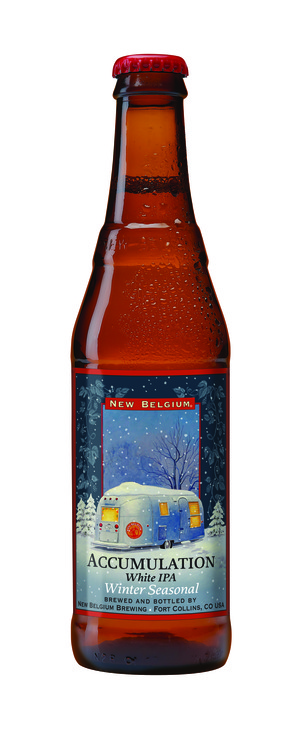 In the minds of the beer drinker there is only one thing that pairs well with cold weather or the Winter time - dark beer. You only have to visit breweries and bars throughout the area confirm the consensus.
Then again New Belgium isn't a brewery from the Northwest. Truth is New Belgium isn't from the Northwest. In fact New Belgium, from Fort Collins in Colorado, knows a thing or two about cold weather. Which is probably why they have announced the anti-Winter beer.
Call it cynicism, call it hubris, but the brewers at New Belgium think that you will enjoy their Winter beer more than anyone else's.

As the first snow starts to fall in the Colorado mountains, thoughts of "accumulation" are in the air. To celebrate the white of winter, New Belgium has released Accumulation, a seasonal White IPA that is all about hops and wheat. Accumulation pours unfiltered, with a white-gold tone, offering tropical aromas from the Mosaic and Amarillo hops. It also has a nice bitter bite balanced against the soft flavor of peaches and a hint of citrus.

Accumulation White IPA shares the look of a wheat beer, along with the creamy and refreshing notes associated with wheat beers, but drinks like a proper American-style IPA.Accumulation White IPA is 6.2% ABV and 60 IBUs.
Look for bottles of New Belgium's Accumulation India Pale Ale wherever you find Fat Tire, Lips of Faith, Ranger, or other New Belgium Beers.
Cheers
Plus the brewery hopes that you will like Accumulation so much that you will participate in a little contest between November 1st and December 31st.
To play, simply visit NewBelgium.com, login or create an account, then cruise the site, use the app or attend events to earn points and limited edition badges. Clues on New Belgium's Facebook, Twitter and Instagram accounts will also reveal additional ways to earn points.The more points earned, the more badges you'll get. Each badge gives you more chances to win the grand prize for an all-expenses-paid ski trip to Colorado. New Belgium will also randomly reward other users with New Belgium schwag.
About New Belgium Brewing Company
New Belgium Brewing, makers of Fat Tire Amber Ale and a host of Belgian-inspired beers, is recognized as one of Outside Magazine's Best Places to Work and one of the Wall Street Journal's Best Small Businesses. The 100% employee-owned brewery is a Platinum-level Bicycle Friendly Business as designated by the League of American Bicyclists, and one of World Blu's most democratic U.S. businesses, and a Certified B Corp. In addition to Fat Tire, New Belgium brews eight year-round beers; Ranger IPA, Rampant Imperial IPA, Shift Pale Lager, Sunshine Wheat, 1554 Black Ale, Blue Paddle Pilsener, Abbey Belgian Ale and Trippel. Learn more at www.newbelgium.com .
Northwest Beer Guide