Beer Release: NW: Get It Now (Again) … Pike Harlot's Harvest Pumpkin Ale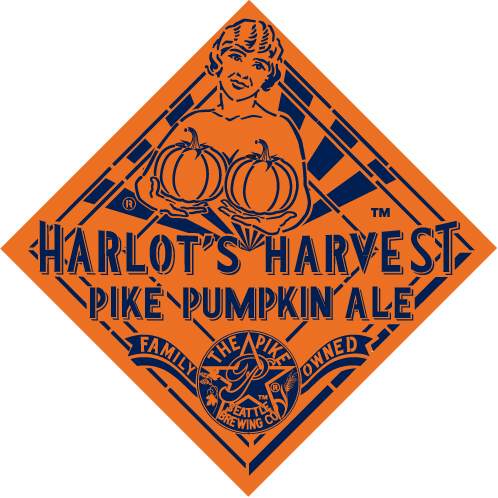 Ever since Elysian's Dick Cantwell brewed one in Seattle, this time of the year demands a Pumpkin beer. Maybe it has to do with dying leaves, falling on the ground. Maybe it has to do with the fact that already we have Spirit Halloween Superstores dotting the Interstate-5 corridor. Or maybe it just seems the right time to release a pumpkin beer.
Introduced last year (2012) Pike decided to see what kind of Pumpkin beer they could come up with. Unfortunately the release was met with bad and good reviews. The good was associated with how great it tasted and the fact that it paired well at that year's Craft Beer + Food pairing festival.
The bad? Let's just say that someone didn't think to make an emergency batch, in case the locals drank too much.
Which is why, on top of announcing its release, Pike is happy to confirm that their Harlot's Harvest Pumpkin Ale is available on draft and in 22 ounce ""dinner-size" bottles".
More on this year's Harlot's Harvest Pumpkin Ale
… Harlot's Harvest is deep dark nut brown with pumpkin-colored highlights. The mouth-feel is rich and luscious. It is big, bold, and voluptuous, with a smooth sweetness reminiscent of pumpkin pie spices and the boldness of a monastic style double ale. Savor it naked or clothed in the bounty of the season! Just right for roasts, turkey, beef, ham and the festive vegetables that go with them.

Malt: Organic Pils, Organic Pale, Special B, Vienna, Organic Caramel, Crystal and Chocolate malts.

Hops: Nugget and Mt. Hood
Color: Dark Caramel & Molasses

Spices: Brewed with organic pumpkin puree from Stahlbush Farms in Corvalis, OR, organic brown sugar, organic cane sugar, cinnamon, allspice, vanilla bean, nutmeg, ginger and clove.

ABV 8.5%
IBU 30
O.G. 1.080
Like last year's edition, this beer will only be available for a limited time and at a few locations throughtout the area. So if you can't find it near you then you probably need to check if the grocer or bartender bought some.
Cheers
About Pike Brewing Company

The Pike Brewing Company is a family owned brewery located 1/2 block South of the entrance to the historic Pike Place Public Market. It is owned by Charles and Rose Ann Finkel who founded the brewery in 1989.