Brewery News: CA: Coming Soon … Ballast Point comes to the Pacific Northwest
Can you recall the last time you had a campfire discussion with friends from out of state? And what did you discuss during that stand-up, while listening to the sounds of knotted wood burst and pop? Did you talk about landmarks? Did you talk about professional sports teams? Or do you talk about food and your favorite spot?
It's a fair bet that the discussion at one point, even if it didn't start out about it, ends up about food. Whether it's pizza, burgers, steaks, or barbecue; nothing unifies like food.
But what about something cold to enjoy with the slab of pork ribs, which fall off the bone with ease? Given this introduction we would assume there's a beer that goes well with it.
Those in the Northwest would suggest everything from a German Helles to an American India Pale Ale. But what about something from California?
Oh you mean Stone or Lost Abbey. No wait, we meant to say Green Flash, Firestone Walker, or Lagunitas. No? What about Sierra Nevada, Bear Republic, 21st Amendment, or Anchor. Still No? How about Ballast Point?
We know what you are going to say, they don't distribute to Idaho, Oregon, or Washington.
Wrong! 
Starting this month the brewery that produces Sculpin IPA, Big Eye IPA, and Dorado Double IPA; is coming to the Pacific Northwest.
First let's talk about the beers being released in limited quantities to Idaho, Washington, and Oregon.
Ballast Point Sculpin India Pale Ale 7.00% ABV
The Sculpin is a testament to our humble beginnings as Home Brew Mart. It showcases bright flavors and aromas of apricot, peach, mango & lemon. The lighter body also brings out the crispness of the hops.

This delicious Ballast Point Ale won a gold medal at the World Beer Cup 2010 in the International Pale Ale category. The Sculpin fish has poisonous spikes on its fins that can give a strong sting.

Ironically, the meat from a Sculpin is considered some of the tastiest. Something that has a sting but tastes great, sounds like a Ballast Point India Pale Ale.
Big Eye India Pale Ale 7.00% ABV
If you have fallen for the IPA style like we have, Big Eye will be a welcome addition to your repertoire.  You'll revel in Big Eye's bitter, hoppy flavor thanks to the American Columbus and Centennial hops that are used to flavor and dry hop our flagship IPA.

We thank our hops every day that the English loved their bitters—or else the IPA style may not have been born to help the beer survive the journey from Cape Hope to India back in the 18th century.
Dorado Double India Pale Ale 9.60% ABV
On a quest to make delicious beers, our brewers have continually sought creative new ways to accentuate the delightfully aromatic and flavorful qualities of hops. Hopheads rejoice! Dorado Double IPA takes hops to a new level. Mash Hopping, First Wort Hopping, Kettle Hopping, and Dry Hopping create an award winning beer that embodies San Diego's reputation for making world class IPAs. Our bottle Robust Series gives all beer lovers an opportunity to try our most rare beers, previously available only on draft at select tap houses. Enjoy! Get the Point! World Beer Cup 2006 Bronze Award Winner
In the coming weeks you are encouraged to contact your nearby grocery store, bottleshop, or bar, to remind them about Ballast Point's arrival.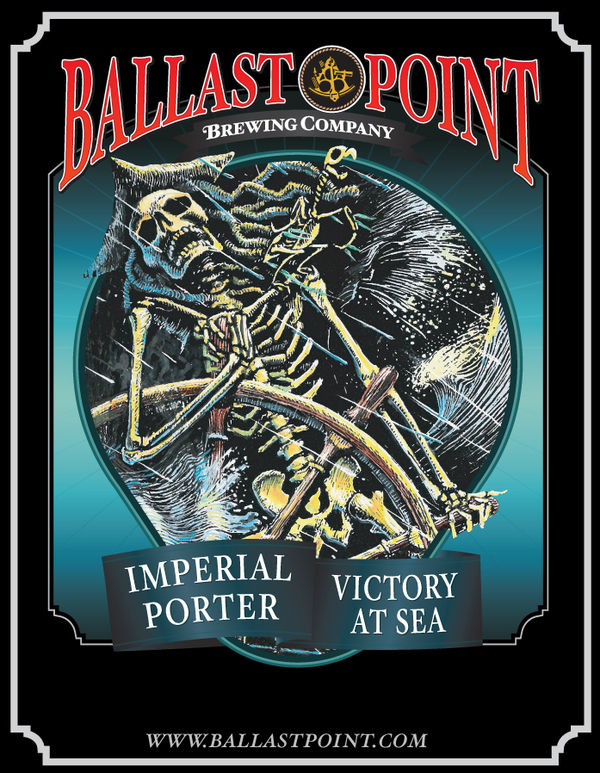 Plus for those that aren't into something bitter and full of "pineapple citrus" cases of Victory at Sea Imperial Vanilla Porter will be available as well.
Victory at Sea Coffee Vanilla Imperial Porter 10.00% ABV
Two of the world's oldest beverages join forces to conquer your palate. Victory at Sea embodies the art of masterful brewing by infusing a velvety Imperial Porter with pure vanilla flavor and specially-selected, hand roasted coffee. The addition of cold brewed coffee to the beer lends a subtle roasted flavor to this robust imperial porter, blending perfectly with rich vanilla and caramel undertones. By uniting two San Diego brewing traditions, Caffe Calabria freshly brewed coffee and Ballast Point beer, we have successfully created an artisanal masterpiece
Never heard of Ballast Point? We thought this biography might help, with thanks to the brewery.
It all began with a home brewer's humble dream.

During his college years, young Jack White developed a taste for beer. After graduation, he decided it was time to explore more interesting beer than he could find in the store, or at a keg party, for that matter. So, he began home brewing in his back yard. He got good at it, and quickly realized it wasn't that easy to get his hands on the various supplies and ingredients he wanted—nor did he have people to trade brewing ideas with.

He needed a place to get great ingredients.

So, one rare sunny day in San Diego in 1992, Jack opened Home Brew Mart: A home brewer's nirvana filled with the supplies, ingredients, and conversation every home brewer needed to make better beer at home.

Home Brew Mart thrived and soon Jack was joined by Yuseff—a fellow home brewer with a similar dream—and home brewing awards, to boot. Together, they moved the brewery from Jack's yard to the back room of Home Brew Mart, and opened Ballast Point Brewing.

In 1996, Ballast Point Brewing was born.

Naming the beers was easy—Yuseff loves fishing, and he and Jack both love beer. So they brought the two together and started naming their beers after fish. After all, regular guys doing what they love—that's what this was all about.  Today, the beer labels still have fish on them as an homage to the brewery's origins and as a reminder to always do what you love.

As customers began tasting Jack and Yuseff's back room brews, they wanted more. So they bought the beer. A lot of it. By 2004, Ballast Point had outgrown its back room location and was going to have to move to keep up with demand.

Demand increased, so Ballast Point continued to grow!

Home Brew Mart remained in its original location, serving home brewers and their beer dreams, alike. It turned out that Home Brew Mart was not only the perfect grounds for cultivating new beers, but also relationships with beer lovers who would eventually become employees, each one crucial to the brewing process and end product.

Today, we are still real beer lovers making real good beer.

Almost 15 years after its inception, Ballast Point Brewing's dedicated team of craftsmen (and women) is still innovating, trying new methods and ingredients, and working constantly to increase capacity to try to meet demand. More than anything, they are staying true to Jack's dream, and their own: Real beer lovers making real good beer.
Be on the lookout for six packs, 22 ounce bottles, and limited locations for draft editions of the beers listed above. As always if you can't find it on the shelves or on draft ask your grocer or serve to order some!
Cheers