Beer Release: NW: Get It Now (Again) … New Belgium Frambozen Flemmish Ale (with Raspberries)
If there is one word that can describe the weather in October it would be bi-polar. Despite what you might believe, it's finally starting to feel like Fall. Oh sure we had a good solid run at the record for the least amount of rainfall and the warmest temperatures seen in the Northwest. But Summer had already passed us by.
Enter the season of Fall, filled with Brown Ales, Dunkels, Octoberfest, and Frambozen?
If you are a fan of early-Winter Ales then you have no doubt seen 12 ounce bottles of New Belgium's Frambozen, strewn across shelves.
To those new to this seasonally-released ale from the folks who gave us Fat Tire, Frambozen is a a dark ale that "… dances with fresh tart raspberries backed by nutty, chocolate and caramel malts.""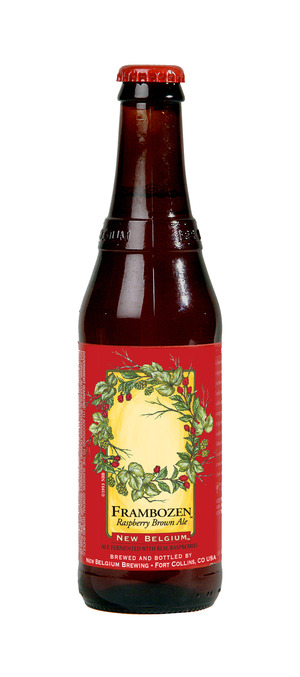 Beer Description
Steeped in tradition, New Belgium Brewing's annual Frambozen release is aptly named after the Flemish word for raspberries.

"Frambozen is a beautiful beer that deserves to be on the table with the thoughtfully prepared foods of the holidays," said Grady Hull, assistant brewmaster at New Belgium Brewing. "It's big, full of tart raspberries with a touch of sweet and definitely celebratory."

Frambozen has 6.5 percent ABV.
Look for this beer to be featured through January, wherever you find other New Belgium beers.
Cheers
About New Belgium Brewing Company
New Belgium Brewing Company, makers of Fat Tire Amber Ale and a host of Belgian-inspired beers, began operations in a tiny Fort Collins basement in 1991. Today, the third largest craft brewer in the U.S., New Belgium produces nine year-round beers; Fat Tire Amber Ale, Sunshine Wheat, Blue Paddle Pilsner, 1554 Black Ale, Abbey, Mothership Wit, Ranger, Belgo IPA and Trippel, as well as a host of seasonal releases.  In addition to producing world-class beers, New Belgium takes pride in being a responsible corporate role model with progressive programs such as employee ownership, open book management and a commitment to environmental stewardship.  For more information, visit www.newbelgium.com.=