(OR) Oregon Business Magazine names its 100 Greenest
     The Oregon Business Magazine is a publication that focuses in on news, features, analysis, innovation from every sector, and occasionally has one one one dialogue with some of those who have been successful in Oregon's economy. The magazine which has been publishing since 1980 continues year after to publish their "100 Best Companies to Work for in Oregon", as well as side special prints of "100 Best Nonprofits", and "100 Best Green Companies".
     The magazines most recent report '"100 Best Green Companies" gave thumbs up to two breweries in the list of one hundred. Ashland based Standing Stone Brewing Co. received a 28 out of a 100 businesses with a score of 181.43. While Hood River's Full Sail Brewing Co. added another award in recognition of their green efforts for sustainability, with a ranking of 33rd and an overall score of 178.93.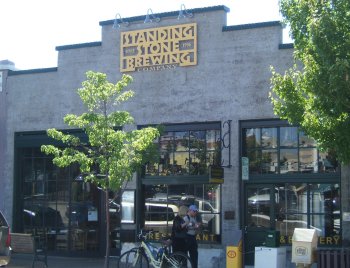 "100 Best Methodology
The 100 Best Green Companies were selected based on sustainable practices sections from the 100 Best survey process, completed by 372 employers last fall. Participation in the 100 Best survey is voluntary and free of charge. Companies had to employ at least 15 Oregon workers at the time of taking the survey.
Employee survey
For the 2009 survey nearly 30,000 Oregon workers rated satisfaction and importance in five statements related to sustainable practices.
Employer benefits survey
Company representatives also answered 10 questions about their company's sustainable business practices.
Scoring
The employee survey counts for half of a company's score, out of a possible 100 points, with average employee satisfaction and importance ratings each representing 1/4 of the total. The employer benefits survey is also scored on a 100-point scale, accounting for the other half of the overall score, and resulting in a total possible score of 200." source, Oregon Business Magazine
     Congratulations to both breweries for being recognized by their peers for the strides made in making this planet a better place in which to enjoy a pint.
Cheers,
Standing Stone Brewing Co.
101 Oak Street Ashland, OR 97520 (541) 482-2448
Full Sail Brewing Co.
506 Columbia Street Hood River, OR 97031 (541) 387-8349
Northwest Beer Guide